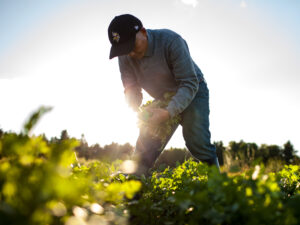 The Big River Farms education program teaches beginning farmers about food production and how to run a successful small farm enterprise. We encourage participants to think realistically about owning their own small farm operation.
The education program starts in January with weekly classes through April and continues throughout the growing season with hands-on mentorship at Big River Farms.
Options for Current and Future Farmers
Classes only: For farmers and community members who want to learn about or transition to organic farming, but don't want to farm at Big River Farms.
Independent plot: For farmers with at least one year of experience growing crops in this climate and who want to farm their own plot at Big River Farms — learning about production, markets, business planning, food safety, and organic certification.

Whole farm management: For farmers who have completed our basic education program and want to gain experience in whole farm management as they operate as an independent business at Big River Farms.
See our full program description to learn more about these education options. All participants also benefit from training and networking opportunities at the Emerging Farmers Conference.
FAQ
What's covered in the classes?

The program includes 8 to 12 winter classroom trainings and 10 in-field trainings with short skill sessions and trips to other farms. Classes cover production, marketing, farm operations and more.
What's included with an independent plot?

Farmers have their own fertilized, fenced plot of land where they can grow their own produce. The plot includes: tractor tillage and water access; use of cleaning, packing and cold storage facilities; access to additional infrastructure and resources, such as where to purchase seeds, tools, and other supplies; and opportunities to sell their organic produce. Staff provides regular in-field visits and one-to-one meetings about setting and meeting business goals, keeping farm records, and other topics. Help is also available for marketing, making connections to organic farming organizations, and applying for financial assistance for new farm endeavors.
Who buys the food grown at Big River Farms?

Participating farmers have a guaranteed market for their produce. Our staff supports sales through wholesale contracts, farmers markets, individual CSAs, and our Big River Farms CSA, which aggregates vegetables from several growers. Through these channels, the farmers hone their marketing and sales skills.
Who's eligible to participate?

Winter classes and in-field trainings are open to the public. The land-based program supports populations that have had difficulty accessing resources to establish farms due to systemic racism and xenophobia (e.g., immigrant, refugee, BIPOC, LGBTQ, female, veteran, low-income, etc.). Land-based participants must have access to resources needed to participate (e.g., transportation, money for program costs, enough time to meet program requirements, etc.). They must commit to producing vegetables on a market scale, learning the principles and practices of organic farming, and learning to manage a U.S. farm business.
How do I sign up?

Program enrollment takes place October through December. To request an update when registration is open, email or call Jess Carroll, Big River Farms Program Assistant, at [email protected] or 651-433-3676.

If you are interested in the land-based program, Jess can tell you about upcoming information sessions or schedule you for a one-to-one meeting. You can also take a tour or see a slideshow of Big River Farms.

Wondering if this is a good fit for you? Fill out the online"Is this program right for me?" questionnaire.
Want to learn more?
Review our full program description to learn more about each education option. Or for more details, contact Jess Carroll at [email protected] or 651-433-3676. She'll be happy to answer all your questions about the program and Big River Farms.