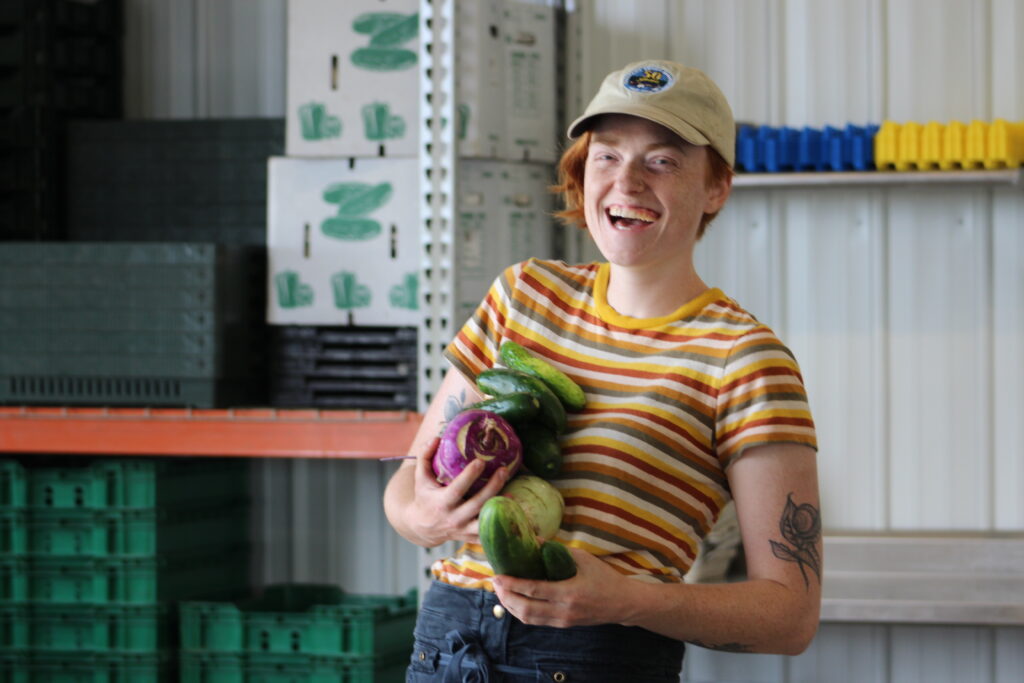 The Food Group works to fight hunger and nourish our community by providing nutritious food and support services to over 250 hunger relief partners throughout Minnesota and Western Wisconsin. We believe in increasing access to high-quality fresh produce for families and individuals experiencing food insecurity. To accomplish this goal, we focus on working with communities to grow and rescue fresh local produce, which we then distribute to our hunger relief partners and the families they serve.
What We Do
PRODUCE RESCUE
Every Sunday from July to the end of October, volunteers visit all the vendor and farmer booths at the Minneapolis Farmers Market (312 East Lyndale Ave N.) to collect surplus produce from the market that they can no longer sell. If you would like to sign up for a Sunday morning farmers market volunteer shift, please see our Volunteerhub page for the most up-to-date volunteer needs for the market!
---
GLEANING
The Produce Programs Team travels to regional farms from July-November to harvest excess or leftover produce directly from farms.
I want to volunteer…

Are you interested in local farms, hands-on harvesting and meeting new people? If so, consider becoming part of The Food Group's Glean Team! The Glean Team is our volunteer farm team that meets us at regional farms and helps harvest produce for donation to local food shelves. Want to receive notifications about upcoming gleans? Join our Facebook page!
I am a farm or orchard owner/operator…

If your farm/orchard is interested in having a group of skilled volunteers harvest leftover produce at the farm, please contact Danielle Piraino to schedule a glean. Volunteers are led by food group staff who have extensive farm-work experience, so your beds will be in good hands! Farms are compensated with a tax-deductible donation. Alternatively, farms may also choose to harvest and deliver produce themselves to The Food Group warehouse as a donation.
I am interested in produce donations for my site…

A program for food shelves that involves a free weekly delivery of gleaned produce from local farms during the growing season.
If your agency or organization is interested in received produce donations, please contact us!
---
MICRO-FARM
Our small farm is located on the front lawn of our property in New Hope, Minnesota. With the help of volunteers, we grow and harvest organically grown fresh produce each season to be donated to food shelf partners.
---
HARVEST FOR THE HUNGRY
The Food Group's Harvest for the Hungry program purchases excess produce from local farmers and donates the fruit and vegetables to our network of food shelves, on-site meal programs, and hunger relief agencies free of charge. This program reduces food waste, supports local farmers, and provides more fresh produce to families struggling with food insecurity in our community.If you are a farm and would like to inquire about Harvest for the Hungry, please contact Danielle Piraino at 763-450-3872 or email at [email protected] Generous support for this program is provided by Finnegans
---