Minnesota nonprofit expands affordable grocery offerings with store on a bus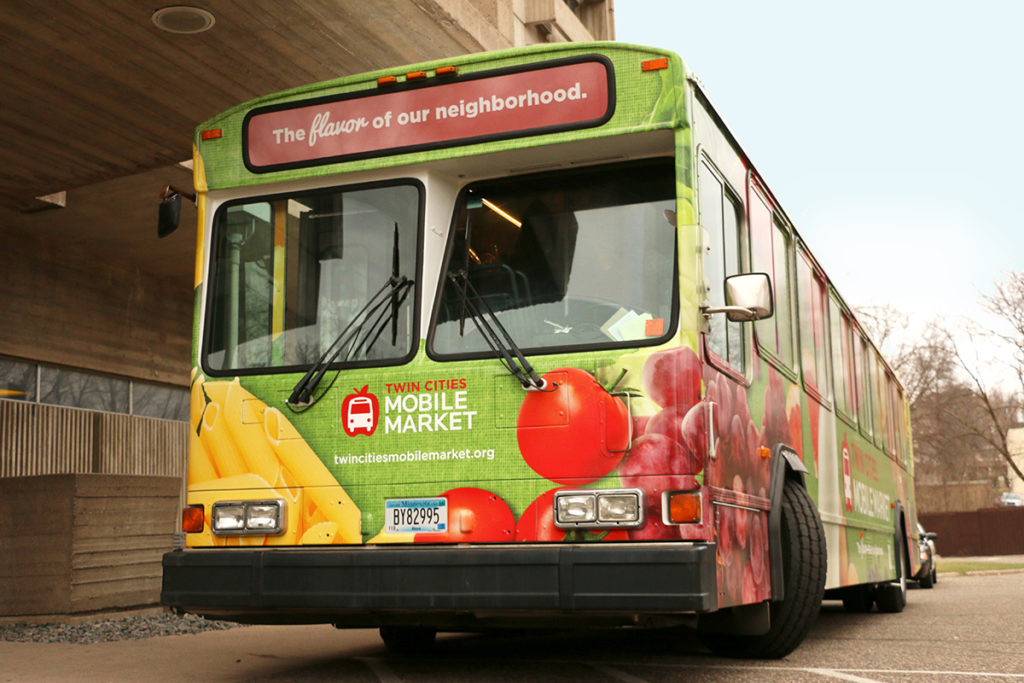 Feb 26, 2020
New Hope, MN – The Food Group and Amherst H. Wilder Foundation are pleased to announce that Twin Cities Mobile Market will become a program of The Food Group in March. 
Twin Cities Mobile Market is a grocery store on a bus that brings affordable foods—such as fresh fruits, vegetables, meat, dairy and grains—directly to Twin Cities neighborhoods that don't have nearby grocery stores or food shelves.
"Everyone grocery shops, including people who visit food shelves," said Sophia Lenarz-Coy, executive director of The Food Group. "The need for nutritious food that is both affordable and accessible is growing. With Twin Cities Mobile Market, we've strengthened our innovative approach to fighting hunger and nourishing our community."
The Mobile Market began in 2014 as a program of the Wilder Foundation. "Wilder often acts as an incubator for new program models that have capacity for greater impact beyond the organization," said Nona Ferguson, Wilder vice president of programs. "The transition to the Food Group is an opportunity for the Mobile Market to grow and better meet the needs of the community."
Food shelf visits continue at record high levels, straining The Food Group's 150-plus food shelf partners. Recent store closures and cuts to the federal Supplemental Nutrition Assistance Program—which go into effect in April and will keep food help from thousands of Minnesotans—are further stretching the hunger relief system and people with already tight grocery budgets.
"The Food Group's hunger-relief work spans our food community—from emergency hunger relief to affordable retail to supporting and sourcing from local farmers," Lenarz-Coy said. "The Mobile Market is another way we reach those experiencing hunger and/or insufficient access to groceries they can afford."
In 2019, the Mobile Market served 8,500 customers at 26 sites throughout Saint Paul and Minneapolis. Of those customers, 84 percent reported eating more fruits and vegetables. Eighty-nine percent said they have greater access to healthy food, according to a 2019 customer survey by Melissa Horning, Ph.D., at the University of Minnesota School of Nursing.
"Our customers are better able to choose the foods they want to feed their family," said Leah Porter, the founder of Twin Cities Mobile Market. "The Food Group has a strong track record in affordable grocery with its program Fare for All. Together we can be even more strategic and efficient as we grow."
About The Food Group (www.thefoodgroupmn.org)
The Food Group is a local nonprofit focused on using nutritious food to strengthen community. The organization works at the intersection of food access, equity, and nutrition issues related to food and hunger in 30 counties in Minnesota and Wisconsin. Its programs include food shelf and meal program support, a healthy and affordable grocery sales program called Fare for All, and Big River Farms, an organic farmer education program in Marine on St. Croix for people historically underrepresented in farm ownership. The Food Group believes nutritious food strengthens our community by creating better health outcomes and providing the foundation needed to thrive.
About the Amherst H. Wilder Foundation (www.wilder.org)
The Amherst H. Wilder Foundation combines knowledge, compassion and action to improve lives today and for generations to come. Wilder creates lasting, positive change rooted in people through direct services, research and community building.