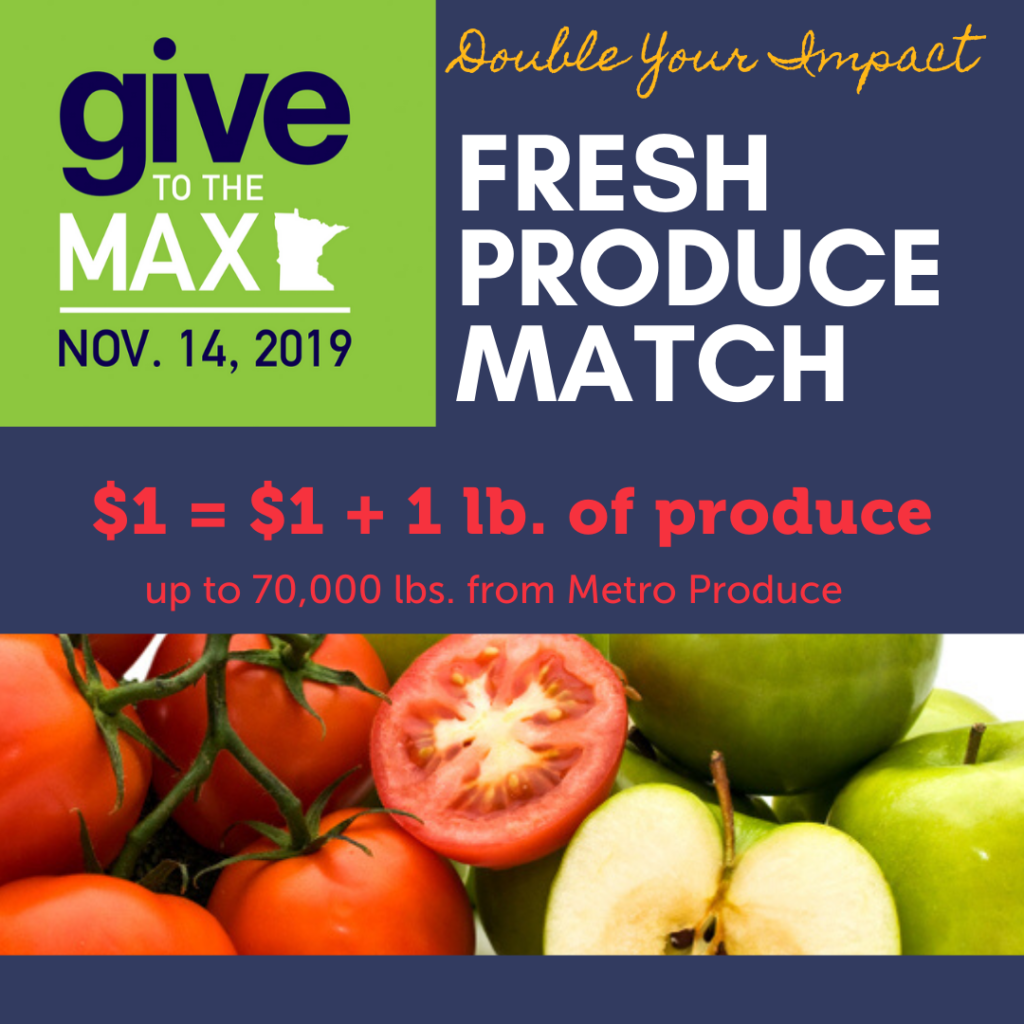 The Food Group is focused on using nutritious food to strengthen our community. We've secured a match this year, partnering with Metro Produce, a local produce distributor. For every dollar donated they will match it with 1 pound of fresh produce! Our goal this year is $70,000. Will you help us provide healthy, nutritious foods to people in our community?
If you have been waiting on year-end giving decisions, the time to donate is now. Metro Produce is matching up to $70,000 in donations with 70,000 pounds of fruit and vegetables.
Give to the Max Day is Nov. 14, 2019, but any donation you make Nov. 1-17 will count toward our $70,000 goal.
Why give?
Food shelf visits are still on the rise. Minnesotans experiencing hunger visited food shelves over 3 million times in 2018, this marks the eighth consecutive year with more than 3 million visits to our food shelves.
The fastest growing group of visitors to food shelves are seniors, yet they also make up the majority of dedicated volunteers to hunger relief programs.
How can you help?
With your support, we offer a solution. Your contributions will be leveraged to access and distribute nutritious food to families experiencing hunger. We do it efficiently and effectively to increase the impact of your dollar. In 2018, our impact was significant:
We partnered with 236 food shelves and hunger relief programs in the community
Distributed 1.4 million pounds of fresh produce
Supported 42 farmers through our farmer education program
Served 2, 012,703 individuals through our programs and partners
Help us meet our match! Together we can feed more local families and individuals in our community. Give now on our Give to the Max Day page at givemn.org/thefoodgroupmn.
Thank you to our generous sponsor: